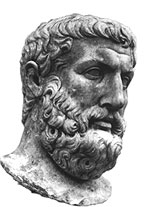 Parmenides and Zeno
Zeno of Elea was an ancient philosopher who lived even before Socrates and Plato. Zeno's teacher was named Parmenides, who believed and taught that the universe is one, and that its contents are unlimited. Parmenides, at the age of sixty five, is said to have met a young Socrates in Athens.
Throughout history there have been many philosophers who have believed in the limitlessness of space, however, Parmenides uniquely taught that time is infinite, without beginning, end, or middle.
Parmenides believed everything must exist, which meant to him that change was an optical illusion of some kind. Since both past and future already exist, he argued that the passing of time must be unreal. And so Parmenides denied change, saying it was appearance only, and interestingly out of the same principle taught that existence or being is ultimately a oneness. Existence could not be created and was indestructible. He may have been the first western philosopher to describe the universe as a permanent single whole, rather than a product of many parts.
This radical ideology did of course lead other philosophers to look for inconsistencies in Parmenides philosophy of monism and timelessness, especially since pluralism and change in everyday life are so much more evident than oneness. Zeno most notably responded by vigorously defending his teacher Parmenides with ingenious arguments about space and time.
Zeno's most popular paradox was meant to show that change is impossible, because space is infinitely divisible. To explain, imagine we take an orange and hold it about waist high from a hard floor. Now we drop the orange. Unless we are in outer space, the orange will fall and smack the ground, coming to rest in contact with the floor. But why is the orange able to move through space if space is infinitely divisible.
Lets try it again, but this time as we drop the orange mentally we divide the distance to the ground in half, and keeping hold of the orange, we move it half way to the floor. Now we divide the remaining distance to the floor in half again and move the orange that distance. Then we do the same thing again, and again as many times as we can, always dividing the distance in half.
We could, if we were perfectly accurate, continue to do this over and again, since hypothetically we can always divide the remaining distance in half no matter how small the distance to the floor becomes. The orange should never hit the floor when dropped, the speed of the orange being irrelevant. Space can be divided in half an infinite number of times, and so the orange must travel an infinite distance, simply to move at all.
If we drop the orange it does hit the floor, but as we try to bridge the gap between the upraised orange and the floor using linear time and space within our minds, we end up trapped within an infinity of moves and an innumerable group of infinitely small points. In fact, if both time and space is linear the orange should not move even an inch away from where it is upraised, because the first inch the orange tries to move also can be divided infinitely. And the first millimeter can be divided infinitely. Thus if time is linear and so infinitely divisible, the way space is infinitely divisible, the orange would never be able to move at all, no matter what force impaled it.
It appears from Zeno's paradox that either time or space must not be linear and so not be infinitely divisible, that is, in order for our universe to change. But instead of concluding that what we experience as time or space is broken, Zeno simply argued that those moments were not numerable, but infinite, and so ultimately were one whole. Zeno believed any other view would divide the world into numerable parts.
Zeno's argument is twofold. First he believed that if there are separate worlds, then we should be able to say how many actually exist. So he took the next step and argued the many worlds of an infinite universe are actually one single undivided world that never changes.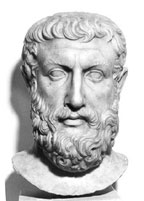 Where Zeno and Parmenides both advocate a single reality of oneness, not inconsistent with what Giordano Bruno believed, both intuitively define the universe as the whole of what is possible, or the one reality view. The philosophers who recorded their belief in many worlds consistently described one reality, which should be of no surprise, since those who are or were agnostic would not try to define the ultimate universe as Bruno and the others attempted. Zeno could not explain why we observe the world to change, or why it did so consistently with a good deal of orderliness, and so the view of an undivided oneness, taught by Xenophanes, and Parmenides at the school of Elea in Italy, did not become the prominent view of their time, but Zeno's paradoxes that explore the infinite are still considered unsolved puzzles in modern times.
Find out more about timelessness at: